About Me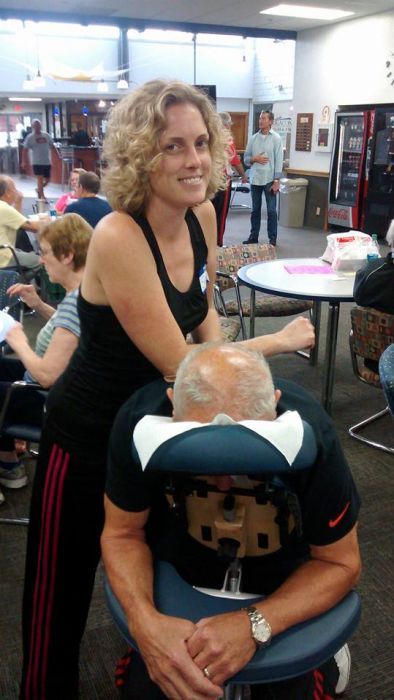 When you come to 'Sarah's Sports Massage' at Beechmont Racquet & Fitness, you're not only receiving therapy from someone with a caring touch, but from a talented & dedicated therapist who has practiced massage for 6 years and has well developed palpation skills!  Sarah has performed over 400 chair massages between the gym and the various sports events around town where she volunteers her much appreciated services. Not to mention the numerous functions inside BR&F she is frequently invited to attend!  She has provided sports massage at The Flying Pig Marathon, Tour de Cure run (for diabetes), Relay for life, Spin for a cure (for multiple sclerosis), racquetball tournaments, post-match tennis and just about any other type of sport, exercise or physical fitness class you can think of.  Having attended two very unique massage therapy academies she's developed an energy-focused technique coupled with a modern, medical approach to healing. Sarah has treated clients with a variety of injuries, medical conditions & pain and has a good working knowledge of the aspects of such ailments along with the therapuetic intuition for techniques to get you back on your feet.  Throughout her career she's been successful at relieving conditions such as: breast cancer, shin splints, rotator cuff pain, thoracic outlet syndrome, lower back/sciatic pain,  hamstring strain, tennis elbow, 'kink' in the neck pain and the list goes on…….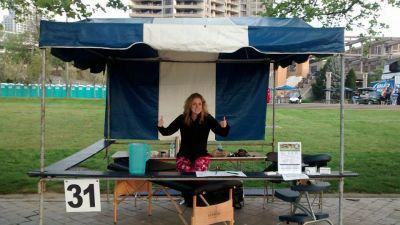 After graduating Collinson School for Therapeutics and Massage of Colorado in 2001, Sarah pursued her career in the spa industry, specializing in therapuetic & relaxation 'Swedish' style massage with some assisted stretching & hydrotherapy rolled in.  During this stint of her career, massage was viewed as more of a luxury treatment rather than ongoing healthcare for a specific physical problem.  Her clients seeking therapy primarily for stress reduction and overall reconnection of their tired bodies' seperated energies.  These years taught her the importance of creating the 'ambience' in a massage room; everything from the feel of the sheets, warmth of the table, to the music & lighting concept and how all of these things affected the overall experience of the client.   While maintaining a true passion for healing she enjoyed every moment of providing massage in the spa setting, however, felt she had more to offer as a massuese & desired a challenging, faster paced version of her career. Therefore, in 2014 after graduating from Cincinnati School of Medical Massage in Blue Ash, Ohio, she decided this time to follow her passion to specialize in sports massage and injury prevention & rehabilitation.   She began volunteering chair massage in the lobby of Beechmont Racquet and Fitness in June of 2014 while still in massage school. -( A brilliant plot between Sarah & Kellie !) After months of hard work.......and a little remodeling, everything came together and 'Sarah's Sports Massage' opened its doors Monday, March 2nd 2015 after which there hasn't been a dull moment (or a free moment, period), since!  Sarah is also VERY interested in business, marketing & advertising - you can ask anyone here at the gym- she is "quite the promoter!" Future plans for Sarah include: postural assessments & a kinesiotaping certification! Â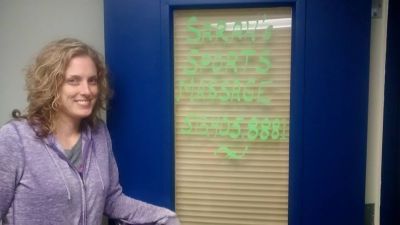 Thanks to EVERYONE who helped  make this possible. 'Sarah's Sports Massage' grew from an idea into a thriving business and is such a valuable asset for the people here at Beechmont Racquet & Fitness! I couldn't have done it without all of you!
"Knowing that I help someone everday perform their sport or physical activity with less pain & better focus is what drives me to keep doing what I do and I wouldn't trade it for the world."
-Sarah Martin